Painting workshops testimonials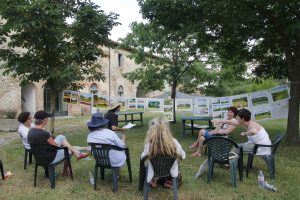 Painting workshops testimonials, art classes or courses offered by Walk the Arts since 1997.

---
Studio Italia is a jewel in the crown of art workshops. The program is so well designed to balance painting, instruction, advice, critique and museum tours by day with long, warm social evenings of conversation. This is all possible thanks to two people, Mónica and Yves, completely dedicated to providing a complete experience in the arts. Mónica's meals were exceptional and Yves provided painting instruction, approaching each painter at their level and raised the bar on us all. I do not believe anyone could walk away from this program unaffected. (K. Gross, San Francisco, U.S., Studio Italia 2016)
Fun, eye opening, intimate, loved every minute of it. It was a whirlwind affair, lots of places to paint, many insightful discussions, totally instructive painting demos, loved the museum, adored Italy. Walked away with a new respect for art. Made some new friends. Yves and Monica are terrific. (A. St. Louis, Ottawa, Canada, Studio Italia 2016)
Studio Italia exceeded my expectations. Yves and Mónica were there for us all the time! Italy is so rich in history, so beautiful! I particularly loved Assisi! I learned a lot about painting and art history and also about creating comradeship and fun with a group of new friends. (K. Hanford, Rochester, U.S., Studio Italia 2016)
Walk the Arts delivered more than a well-structured and organised art workshop, they inject a high level of passion to all elements. The art lessons, lectures and locations were invigorating and Monica's love of fresh produce and serving delicious meals made a perfect end to each day. An enriching and memorable experience. (P. Reid, Sydney, Australia, Studio Italia 2016).
Wonderful beyond description! (Alice Chang, Kuala Lumpur, Malaysia, Studio Italia 2015)
"One of the best holidays and learning experiences I have had in my life. A thought provoking, reflective, and inspirational short time that I would dearly love to repeat". (S. Scanlan, Sydney, Australia, Studio Italia 2013)
The whole experience was totally enriching – emotionally, intellectually and visually. The rich mix of painting with Yves' instructions, his lectures on art history and theory and the wonderful visual sensations of hill top towns. Monica's food was "gourmety plus". The whole workshop will remain a peak experience in my life. (B. Cail, Sydney, Australia, Studio Italia 2013).
---
Please read and click here for more > http://www.walkthearts.com/_icscis/testimonials.shtml
Other links